Pigeons finally coming home to roost? Referring potential criminals!
https://timedotcom.files.wordpress.com/2018/04/barbara-bush-funeral-four-presidents-four-first-ladies.jpg
See: https://theconservativetreehouse.com/2018/04/18/congress-sends-criminal-referral-to-sessions-wray-and-prosecutor-huber/comment-page-4/
CNBC.com
Eleven (yes 11!) Congressmen have signed a letter of referral to the American Attorney General, Jeff Sessions; the Director of the FBI, Christopher Wray; and to the Utah State Attorney, John Huber, referring the following for investigation:
International Business Times
1. Former FBI Director, James Comey, for failure to properly investigate Hillary Clinton's misuse of classified information when she was Secretary of State, insofar he came to decisions not to proceed before he had interviewed Clinton and others in the investigation.
Further for sharing "secret" and "classified" material with a reporter and others, intended to 'create a paper trail' in relation to President Donald Trump and being involved with a Steele document implicating the President in Russian events that was later shown to be largely fraudulent.
Hillary Clinton photo via Getty Images
2. Former Secretary of State, Hillary Clinton for involvement in a process that allowed a National Democrat Party (NDP) lawyer to pay Washington firm Fusion GPS and disguising them, to initiate investigations that led to the 'Steele Dossier'. (This could be the earnest of much more and worse)
Loretta Lynch
3. Former Attorney General, Loretta Lynch, for trying to silence with threats an FBI informant on the potentially illegal 'Uranium One Deal' involving the Secretary of State, Hillary Clinton and the Clinton Foundation.
Business Insider
4. Former Acting Director of the FBI, Andrew McCabe, for reportedly "lacking candour on multiple occasions, including under oath" and for leaking confirmation of a Clinton Foundation investigation.
https://www.google.co.uk/search?q=lisa+page+and+peter+strzok&rlz=1C1ARAB_enGB463GB464&tbm=isch&tbo=u&source=univ&sa=X&ved=0ahUKEwigxInJ4tPaAhWQyaQKHfgWARYQsAQISg&biw=1280&bih=893#imgrc=JIh9_eUZWr3n0M:
5. FBI Agent Peter Strzok and FBI Counsel, Lisa Page, for interfering with the wording of investigative reports to 'water down' reference to President Obama and another 'senior official' in involvement with Mrs Clinton's compromise of high level communications.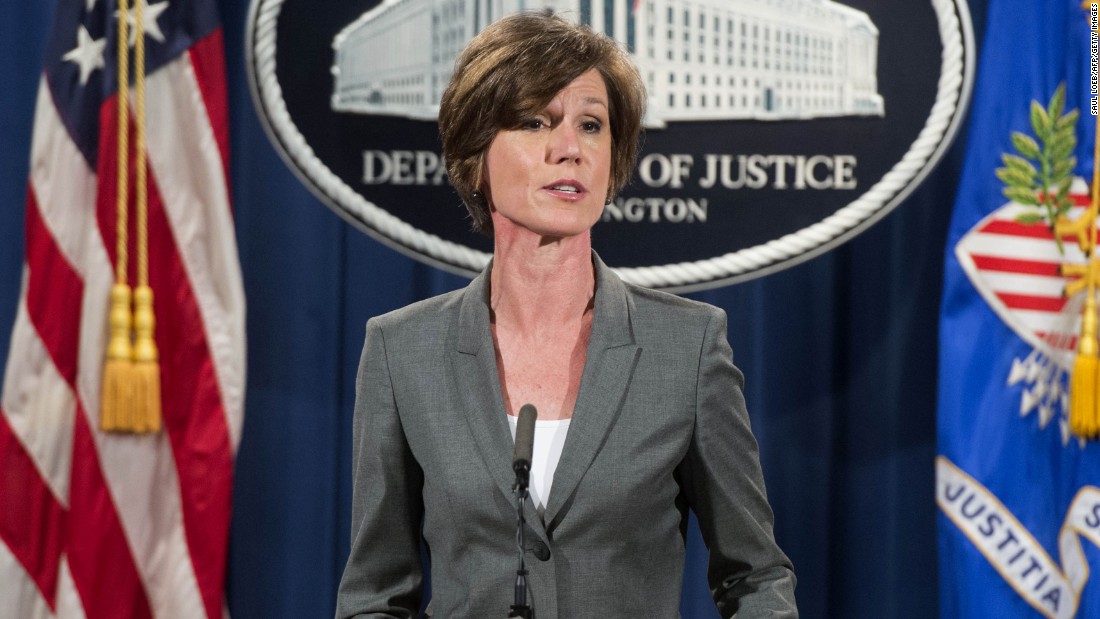 Sally Yates.
CNN.com
6. All Department of Justice (DOJ) and FBI personnel including in addition to the above, former Acting Attorney General Sally Yates and former Acting Deputy Attorney General, Dana Boente regarding the treatment of false and/or unverified information from the Steele Dossier to the Foreign Intelligence Surveillance Court as part of the Carter Page Warrant application.
NBC News
The full letter of referral is here:
https://desantis.house.gov/_cache/files/8/0/8002ca75-52fc-4995-b87e-43584da268db/472EBC7D8F55C0F9E830D37CF96376A2.final-criminal-referral.pdf